Rescue Accidentally Deleted Files FAST
Recovers accidentally deleted files, photos, songs and emails
Recovers from drives and popular email programs
One-click restoration makes it quick and easy

Recovers from many devices
Recovers from digital media and devices including cameras, music players, CDs, DVDs, memory cards, flash drives and more.
Recovers emails
Recovers mail from popular email programs: Outlook®, Outlook Express®, Thunderbird, Netscape® Mail, and Eudora®.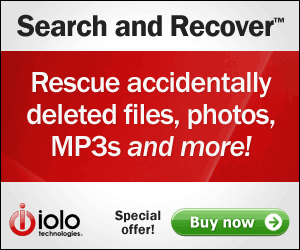 Recovers from many drives
Recovers files, songs, photos, videos, emails and more from many drive types: IDE. SCSI, USB, USB 2.0, FireWire and others.
Recovers from distressed devices
Smart technology recovers data from malfunctioning, damaged, formatted, and repartitioned drives and devices.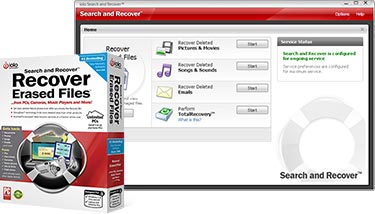 Works with Windows® 10, 8.1, 8, 7, Vista or XP (SP3)
Never lose precious files, photos, email, songs or movies again: iolo technologies' Search and Recover™ rescues accidentally deleted files from any drive, disk, camera, music player, or memory card.  Proprietary StrongScan™ and SmartScan™ technologies let you recover information after the worst PC accidents and disasters – even years after the data was lost.