FIFA 19
8.5

/10
(Expert Score)
Set Lowest Price Alert
×
Notify me, when price drops
Set Alert for Product: FIFA 19 - $0.00
Buy cheap game keys or gamecards online at GamesDeal.com! Fast! Secure!

Description
Powered by Frostbite™*, EA SPORTS™ FIFA 19 delivers a champion's caliber-experience on and off the pitch. Led by the prestigious UEFA Champions League, FIFA 19 offers enhanced gameplay tools that allow you to control the pitch in every moment with unrivaled ways to play.
FIFA 19 includes a dramatic finale to the story of Alex Hunter in The Journey: Champions, a new mode in the ever-popular FIFA Ultimate Team™, and more. Champions Rise in FIFA 19.
What's new in FIFA 19?
This edition looks to be epic with the official licenses of the UEFA competitions and the new mechanics that they have developed from EA Sports.
These are the most significant changes in FIFA 19:
You can play with your team in the Champions League and Europa League. These competitions are also included in the career mode and there will be a new game mode called Champions League where you can play the competition with the teams of the 18/19 season or create a new tournament with the teams you want.
– The new "active touch" system that changes the way in which the player stretches for the ball giving the game a greater realism and similarity with real football. The animations are more natural and you will have to have more control over the player. You wanted to play football, right?
– New system of dynamic tactics that gives us new configuration options. The game becomes more tactical and you can retouch the strategy of your team depending on whether you want to have more possession, play on the counter, play a wide style of play, with advanced defense or … however you want!
– The 50/50 battles is another of the changes to the game as it improves the collisions between players giving more realism to the game. The disputes between players will be more real in this FIFA.
– The mechanics of the shot are improved with "timed finished" since you can improve the accuracy of your shot by pressing the shoot button again.
– New feature are also going to be added to FIFA Ultimate Team with the new "division rivals" game mode where you can play against players from all over the world with a similar level and earn points, not only for the result, but for the way of winning. There will also be 10 new icons such as Gerrard, Raúl or Rivaldo among others.
FIFA 19 STANDARD EDITION
Available Now
Player Pick Loan Item: Neymar JR, Kevin De Bruyne or Paulo Dybala for 10 FUT Matches
4 UEFA Champions League Kits
5 UEFA Champions League Player Items (up to 85 overall rating)
FIFA 19 CHAMPIONS EDITION
Buy the Champions Edition* and get:
10 Jumbo Premium FUT packs
Cristiano Ronaldo and Neymar Jr. loan players for seven FUT matches
Special Edition FUT kits designed by FIFA soundtrack artists and more
Player Pick Loan Item: Neymar JR, Kevin De Bruyne or Paulo Dybala for 10 FUT Matches
4 UEFA Champions League Kits
5 UEFA Champions League Player Items (up to 85 overall rating)
FIFA 19 ULTIMATE EDITION
Buy the Ultimate Edition* and get:
25 Jumbo Premium FUT packs
Cristiano Ronaldo and Neymar Jr. loan players for seven FUT matches
Special Edition FUT kits designed by FIFA soundtrack artists and more
Player Pick Loan Item: Neymar JR, Kevin De Bruyne or Paulo Dybala for 10 FUT Matches
4 UEFA Champions League Kits
5 UEFA Champions League Player Items (up to 85 overall rating)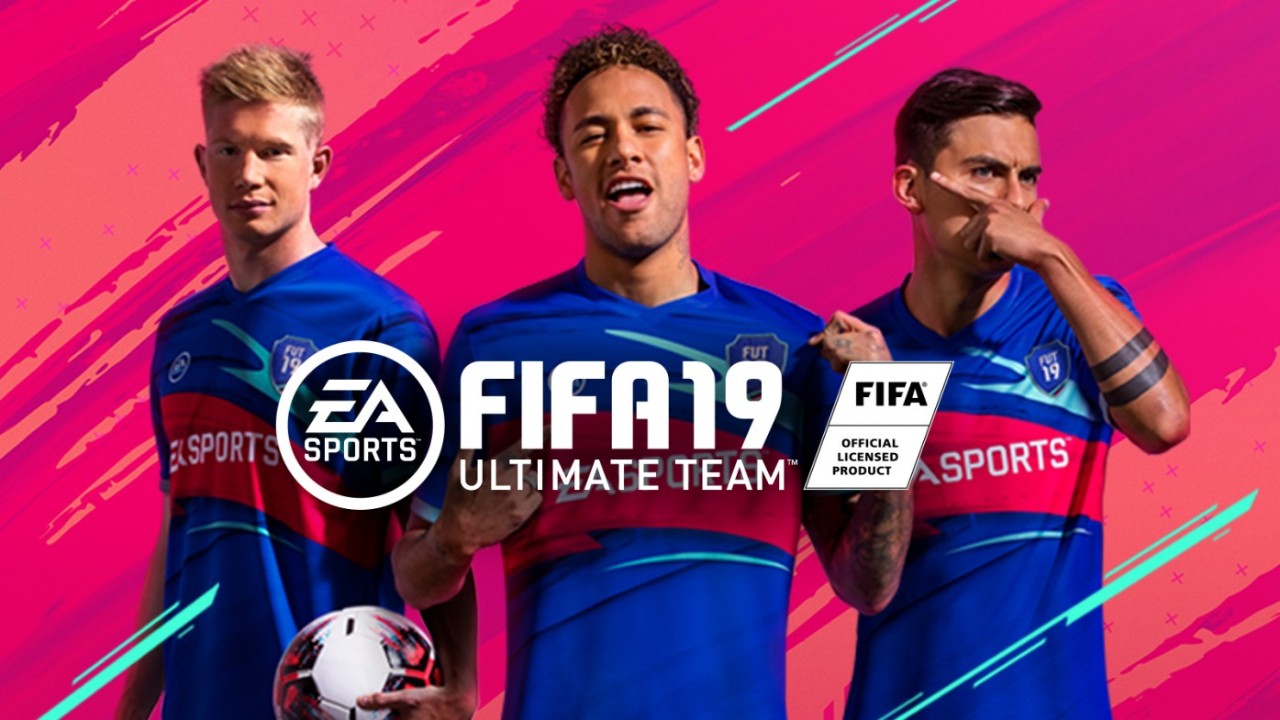 Minimum Specification:
OS: Windows 7/8.1/10 – 64-Bit
CPU: Intel Core i3-2100 @ 3.1GHz or AMD Phenom II X4 965 @ 3.4 GHz
RAM: 8GB
Hard Drive Space Required: 50.0 GB
Minimum Supported Video Cards: NVIDIA GTX 460 1GB or AMD Radeon R7 260
DirectX: 11.0
Recommended Specification:
OS: Windows 10 – 64-Bit
CPU: Intel i3 6300T or AMD Athlon X4 870K or equivalent benchmark. Intel i3 4340, Intel i3 4350, AMD FX-4350 and FX-4330 as alternatives.
RAM: 8GB
Hard Drive Space Required: 50.0 GB
Minimum Supported Video Cards: NVIDIA GeForce GTX 670 or AMD Radeon R9 270X
DirectX: 12.0
The #1 Gaming Product On Cb! $120+ In Avg. Per Customer Referred. Hack Into A New Huge Over 15 Million Player Niche! First Fifa Ultimate Team Membership Site With Auto-trading Program And Coin Guides. See Affiliate Page: www.futmillionaire.com/affiliates
100% Autopilot Bot From The Makers Of Futmillionaire (biggest Gaming Product) Eliminates Need For Trading Knowledge. Fifa19 Is An Enormous Hidden 15 Million Player Niche! See Affiliate Page