Write for Us
Guest Blogging
We always welcome having new writers join our contributor pool. We want to give you a place to publish your stories and send your words out into the world. We can add your profile at the end of the published article. Most of our guest articles are published in our blog on our website.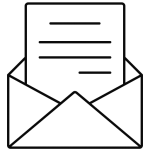 What we publish
We publish articles of anywhere between 500–1,500 words, depending on subject complexity. 1,000 words is about average. Articles often run with a custom illustration. Articles may be casual in tone and content—great for less-intensive tutorials and posts—or rigorously structured and edited. All should be well-considered explorations of current and cutting-edge topics in the web industry.
Please don't send us press releases or sales pitches.
Guest Writer Submissions
Be Free Of Errors: Please make sure your submission is free of typos and grammatical errors. And the content should be at least 500 words in length.
Permit Edits: We reserve the right to edit the content to remove typos, grammatical errors, inaccuracies, and to improve the title. Images may also be added or removed from your submission to meet size and style requirements.
Allow Sharing: You must be okay with your article being shared on our blog, as well as on social media and in digital projects.
Be Self-Promoting (yeap ;): You can include a link to your website or blog and feel free to promote a product or service, if it is relevant, but your submission content should not be fully an advertorial, but helpful to all readers with supportive information. This means no your affiliate links either, therefore, our links may be added for context.
Originality: We tend to only accept original copy that is exclusive to our site. You must have the right to use it, and all quotes and extracts must be attributed accurately. Please refrain from republishing the content on multiple sites.
Plagiarism: We use various software to ensure all articles are original. If you have blatantly plagiarized, you will automatically be removed from the contributor pool, with your name blacklisted in our list of authors. If you wish to cite another source to better explain your viewpoint, please properly credit them in the article by linking to the original source.
Understand Publishing Isn't Guaranteed: The submission of content does not guarantee the publishing of content. Instant-Deals reserves the right to deny or take down your content without notification.
How to submit
Email us your submission via contact form below. We prefer submissions as Google documents (add the link into message section) so that editors can easily to consider to publish. You can either need to have full rights to the image that you plan to use, or the image needs to be copyright free.