Did you decided to step up your point-and-shoot Canon camera for a DSLR type, but looking for recommendations and answer few more questions for choosing The Best DSLR Camera For Beginners such as; What camera should I buy? What's the best beginner DSLR camera? Here you go EOS DSLR Cameras for Beginners:
Buying a camera isn't about finding the best one on the market—it's about finding the best one for your style and your budget. You can save a bit by buying a DSLR and using coupon code that's not the current model. Older DSLRs are still great cameras and sometimes you can pick up an older mid-level DSLR for the same price as a newer entry-level DSLR and get more features.
Once you decide on a DSLR, you have one more choice to make—buy the kit, or camera body only? Most beginners buy a DSLR camera with a kit lens. Kit lenses are great because they often cover the most common zoom range, usually 18mm to 55mm. They're inexpensive and a good way to get started in photography.
When you buy your first Best Entry-Level DSLRs or mirrorless camera, you're buying into a camera system. A camera isn't just the body, it's a whole ecosystem of lenses and accessories that are specific to that body (or, at least, that manufacturer). So it pays to do your homework and invest in lenses that you can keep using, even as and when you outgrow the original body. Our list for the best beginner DSLR cameras 2022: 10 cheap DSLRs for new photographers. Visit our blog post for reviews, comparison posts and get discount codes to save your budget!
The Best Canon Cameras for Beginners
Canon EOS Rebel SL3 / EOS 250D / EOS 200D Mark II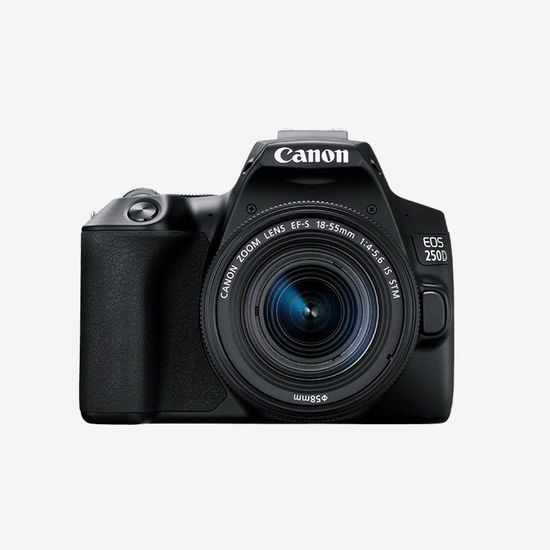 The SL3 is tiny and lightweight, yet the grip is still comfortable, and it has some of Canon's most advanced features. Size and weight are big sticking points for many beginners buying their first camera. And they should be because when you're just learning the ropes, you should start small and simple. But this doesn't mean you should forego a DSLR. The Canon EOS Rebel SL3 / 250D is so compact and lightweight you'd mistake it for a mirrorless camera.
It weighs just around a pound but is as feature-rich as its predecessor, the Rebel SL2, and with longer battery life than a mirrorless camera of the same price. A lightweight, intuitive DSLR Superb Live View shooting Larger than mirrorless rivals Relatively few AF points This isn't the cheapest DSLR you can buy by any means, but very often it's worth paying a little extra money to get a much better range of features – and this is the perfect example.
The EOS Rebel SL3, also known as the Canon EOS 250D, is the latest entry-level arrival to this list – indeed it's one of only a handful of beginner models announced in recent years. In fact we believe it's the best Canon camera for beginners you can buy right now. Canon's top-of-the range APS-C sensor with 24.1MP of resolution delivers excellent image quality.
Live View shooting with the LCD screen so easy and intuitive, with such good autofocus, that we'd actually say this is one of the only DSLRs where composing shots with the screen is as easy as with a mirrorless camera. The world's lightest DSLR with movable screen*, featuring Canon DIGIC 8, 4K movie and Creative Assist. Like its name suggests, it picks up from where the Rebel SL2 (EOS 200D) left off, adding a fresh processing engine and 4K video recording on top of a collection of smaller extras.
Canon EOS 2000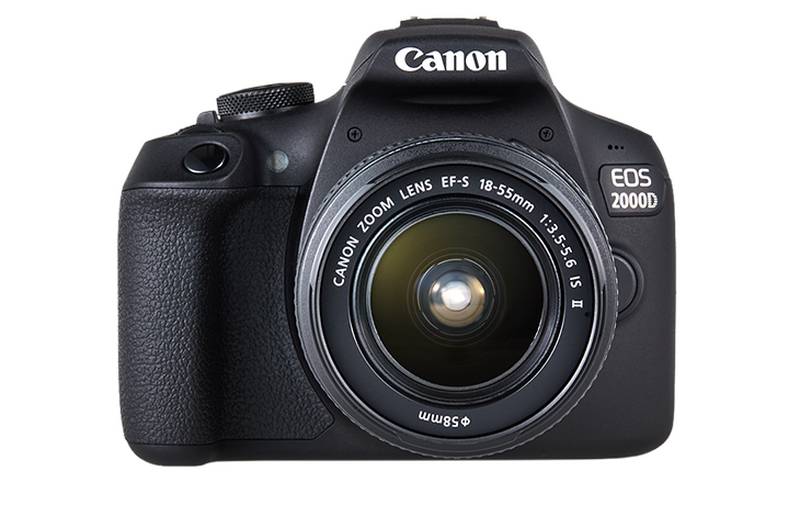 Easy and intuitive, the ideal first DSLR for making and sharing memories with beautiful background blur. Step up to effortless DSLR storytelling – Create detailed DSLR quality pictures and cinematic Full HD movies with ease, even in difficult low light situations, using the 24.1 Megapixel EOS 2000D. Share instantly and shoot remotely with Wi-Fi, NFC and Canon Camera Connect app. Step up to a 24.1 Megapixel sensor that has up to 19x more surface area than many smartphones to capture stories with beautiful background blur, even in tricky light.
Canon EOS Rebel T100 / EOS 4000D / EOS 3000D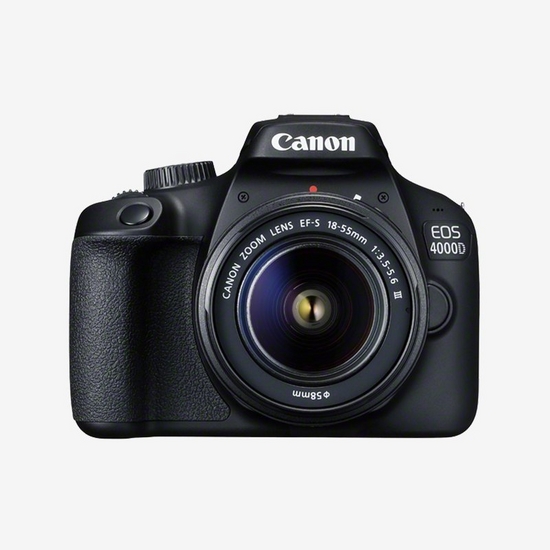 It has super low cost and easy to use but poor viewfinder and screen, also no image stabilizer on kit lens. Nobody wants to buy an expensive camera only to discover that photography's not for them. You can limit the risk with this remarkably cheap DSLR and kit EF-S 18-55mm f/3.5-5.6 III lens, it's well suited to beginners, with the same 'intelligent' full auto shooting mode and feature guide as you'll find in pricier Canon cameras. The 'Quick' menu is typically intuitive, and there are plenty of scene modes as well as more advanced shooting modes.
Canon EOS 80D
Sitting on top of Canon's entry-level DSLR pile, the EOS 80D is one of the older cameras from the camera maker, having been around since 2016. This feature-rich, versatile DSLR camera is our best all-rounder Canon camera for beginners. It boasts professional-grade image quality courtesy of its robust 24.2 MP APS-C CMOS sensor and DIGIC 6 image processor. Despite that, it's one of the more 'advanced' beginner cameras, thanks to its feature set and specs, including a 24.2MP sensor with a 45-point autofocus system that's actually remarkably reliable.
Canon EOS Rebel T7i / Canon EOS 800D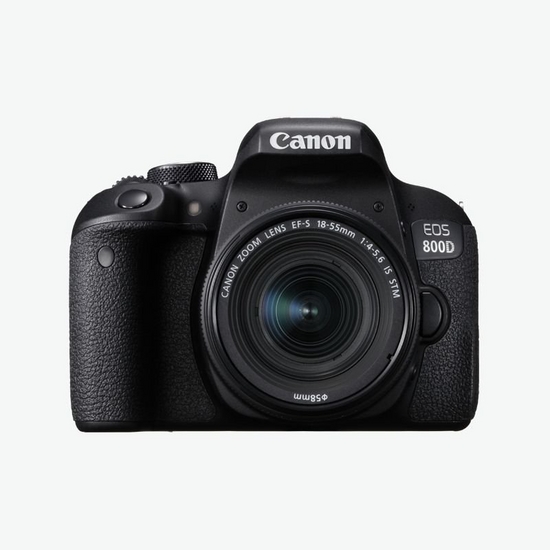 Canon's EOS Rebel T7i (known as the EOS 800D outside the US) is on the cusp of being replaced: in fact, we're just about to test its successor, the Rebel T8i / 850D. Early impressions suggest the new model is more evolution than revolution, but the upgrades should make it an excellent entry-level choice – think 4K video, better low-light focusing and Live View focus points. It also gets Canon's latest Digic 8 chip for 7fps burst shooting, improved metering and better noise-handling.
Canon EOS 7D Mark II
Canon's EOS 7D Mark II is the fastest APS-C DSLR camera currently on the market with a 10 fps burst speed. Though it is more expensive than other analog devices on the market, it ensures fast and convenient work if you are engaged in sports photography, reportage and other dynamic genres. It's pricer than most entry-level models, but that speed may be well worth the extra expense for sports and other action.
Canon EOS Rebel T7 / Canon EOS 2000D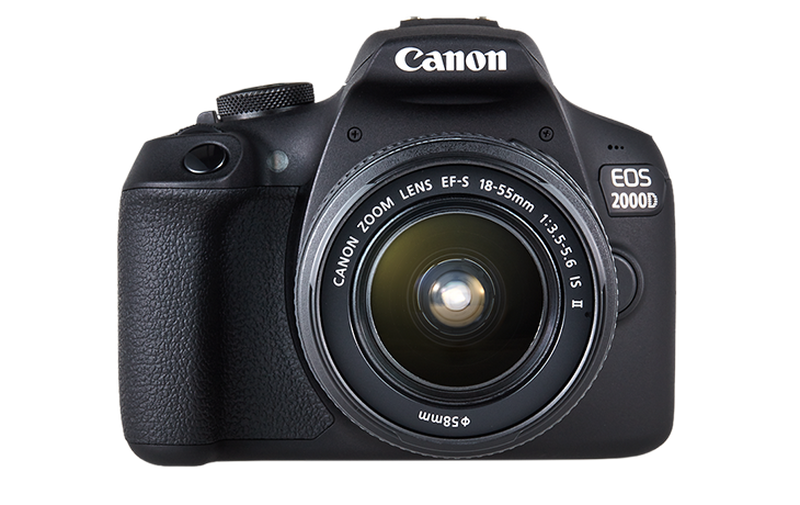 Easy and intuitive, the ideal first DSLR for making and sharing memories with beautiful background blur. This is one of the cheapest DSLRs in Canon's current line-up, which also makes it a very cost-effective way to get access to an endless assortment of lenses, flashguns and other accessories. Its low price tag means that it understandably lacks some of the fancy tricks of its bigger brothers – flip-out LCD, 4K video and so on – but there's still a very good level of physical control on offer. And, most importantly, image quality from the 24MP sensor is sound.
Canon EOS 90D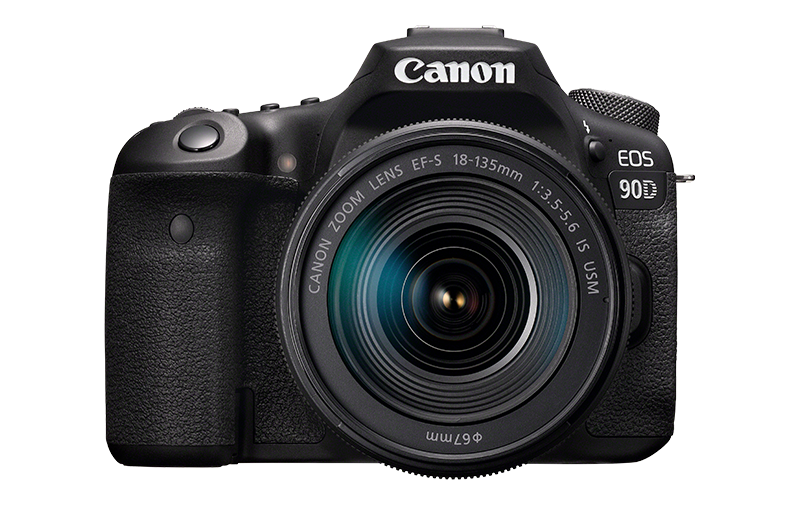 Alright, this model is not the cheapest option for beginners. Canon's 90D might be the last enthusiast-level DSLR the company ever makes – and if so, it's going out with a bang. Fast DSLR performance that takes you closer… Canon's 90D might be the last enthusiast-level DSLR the company ever makes – and if so, it's going out with a bang. The versatile 90D packs a high-resolution sensor which, paired with Canon's Digic 8 imaging engine, offers the enticing prospect of uncropped 4K video at 30fps. A perfect balance of speed, image quality and portability – ideal for getting close to nature. The versatile 90D packs a high-resolution sensor which, paired with Canon's Digic 8 imaging engine, offers the enticing prospect of uncropped 4K video at 30fps. It combines the highest resolution yet seen in an APS-C sensor of 32.5MP, with high-speed frame rate of 10fps, and it also manages glorious uncropped 4K video – none of that irritating crop that has plagued Canon cameras in the past.
Canon Rebel T6 / EOS 1300D
One of the few DSLRs on this list that I wouldn't recommend is the Canon Rebel T6 (also known as the Canon EOS 1300D). That's simply because it sells for $400 with a kit lens – a good price, but equal to the newer T7! Although the two are practically identical cameras, the T7 has a 24 megapixel sensor rather than 18 on this T6. So, I don't really see why anyone would buy the T6 kit at its current price, aside from being confused by Canon's sprawling DSLR lineup.
Canon Rebel EOS 850D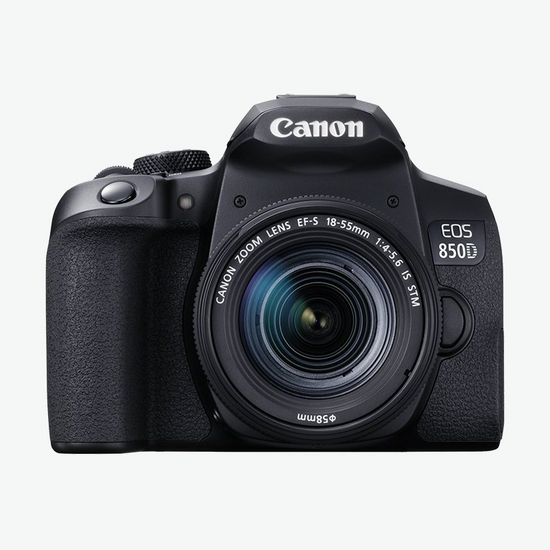 The Canon EOS 850D could be an affordable DSLR that still includes features like wi-fi and a tilting touchscreen. Take the next step in creative control, capturing beautifully detailed photos and stunning 4K movies with a lightweight and connected DSLR that inspires and rewards. Capture your life with more creative control – Discover your creativity with a camera that inspires you. From rich, detailed 24.1MP images to stunning 4K movies, the EOS 850D lets you take control.
How to Choose DSLR Cameras for Beginners?
Set your budget
Decide on your motivation how to use it
Think twice to choose advanced models if you have experience
Compare features, size, weight and accessories
Don't even think to search on second-hand market
Conclusion
Choosing a camera can be daunting for beginners. But weighing the pros and cons against your budget and needs can ease the pain in the process. Even though the Canon SL3 is number one on this list, remember that it isn't necessarily the best camera for your needs. If you'd rather pay extra for better autofocus and forego 4K video, the D5600 might be your top choice. Explore the choices via the buttons on different stores.